The Resplendent 1923 Kissel Speedster Model 6-45 Gold Bug (Deluxe)
The Hausmann Kissel Collection is honored to possess TWO 1923 Kissel Gold Bug Speedsters. His highLighted vehicle, the second kissel Gold Bug, is in the process of being restored and is expected to be complete for "coming out" in 2024 or 2025.
This 1923 Kissel Speedster Model 6-45 Gold Bug (Deluxe) stands as an iconic symbol of automotive excellence from the Golden Age of motoring. With its sleek lines, exquisite craftsmanship, and impressive performance, this exceptional vehicle continues to captivate enthusiasts and collectors alike. This car will sport the traditional Kissel complete yellow body and optional fittings which adorn the Kissel history book cover, written by Val Quant.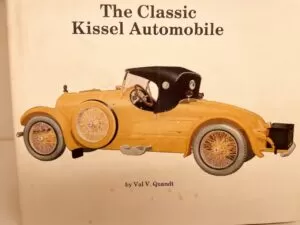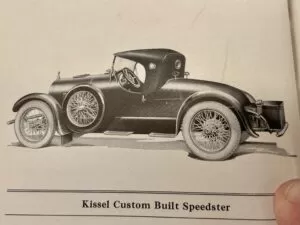 Underneath its striking exterior, the Gold Bug (Deluxe) housed a powerful and advanced engine for its time. The heart of this automobile was the Kissel Custom 6 Engine, meticulously crafted and cast in Hartford, Wisconsin in 1922. This robust powerplant delivered the necessary oomph to propel the Gold Bug (Deluxe) forward, providing a thrilling driving experience and impressive acceleration.
One glance at the Gold Bug (Deluxe) is enough to leave anyone breathless. Its elegant body design, meticulously sculpted and meticulously finished, exudes timeless beauty. Adorned with luxurious details and thoughtful touches, the Kissel Speedster Gold Bug (Deluxe) epitomizes the craftsmanship that made Kissel Motor Car Company renowned. Every curve, every line, and every panel was meticulously crafted to perfection, creating an automobile that was as much a work of art as it was a mode of transportation.
The Gold Bug (Deluxe) showcased a stunning color palette, with the Kissel Chrome Yellow taking center stage. This vibrant hue not only highlighted the car's distinctive design but also turned heads wherever it went. The lustrous finish, coupled with impeccable attention to detail, ensured that the Gold Bug (Deluxe) commanded attention and admiration from all who beheld it.
As its name suggests, the Kissel Speedster Gold Bug (Deluxe) featured an array of luxurious enhancements that elevated its status to the epitome of automotive opulence. The interior boasted sumptuous upholstery, providing both comfort and elegance. Every surface, from the dash to the door panels, exuded an air of refinement, with high-quality materials and meticulous craftsmanship evident throughout. The cabin was a sanctuary of style and sophistication, enveloping its occupants in an ambiance of luxury.
In terms of performance, the Gold Bug (Deluxe) was a true force to be reckoned with. Powered by its Kissel Custom 6 Engine, it unleashed an exhilarating blend of power and agility. Acceleration was swift and seamless, allowing drivers to experience the thrill of speed while maintaining precise control. Whether cruising along open roads or navigating tight corners, the Gold Bug (Deluxe) delivered a dynamic and engaging driving experience, making every journey a memorable one.
Beyond its technical prowess, the Kissel Speedster Gold Bug (Deluxe) held a special place in automotive history. It represented an era of innovation, craftsmanship, and a pioneering spirit that laid the foundation for modern-day automotive engineering. As one of the finest examples of Kissel Motor Car Company's artistry and engineering prowess, the Gold Bug (Deluxe) continues to be celebrated as a testament to the Golden Age of motoring.
In conclusion, the 1923 Kissel Speedster Model 6-45 Gold Bug (Deluxe) remains an automotive masterpiece, embodying the pinnacle of craftsmanship, style, and performance from its era. With its powerful engine, captivating design, and luxurious features, it continues to mesmerize automotive enthusiasts and collectors, standing as a testament to the timeless allure of classic automobiles. The Gold Bug (Deluxe) is a rare gem, a true embodiment of automotive artistry, and a symbol of the indomitable spirit of automotive innovation from a bygone era.
Take a look at the Gold Bug with Hollywood Options.
1923 Kissel Gold Bug Speedster Restoration
In 2012, the Hausmann Kissel Collection acquired a complete 1923 Kissel Gold Bug Speedster that, unbelievably, had been sitting in a shed in Owosso, Michigan since 1956. Other than having an incorrect front axle, a ton of mouse poop, and rust, the car was complete. See pictures.
As of the summer of 2023, the restoration of this car is underway and pictures will follow. The incorr3ct front axle has been replaced with a correct one from a 6-45 donor car. Hausmann's restoration will result in a Gold Bug identical to that pictured in the Val Quant book pictured.
BELOW ARE PICTURES OF THE 1923 KISSEL GOLD BUG AS ACQUIRED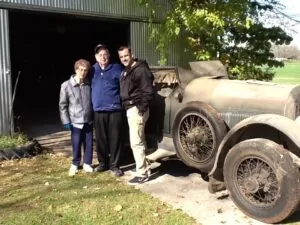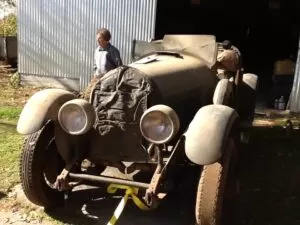 Below are pictures of several components in the ongoing restoration of this 1923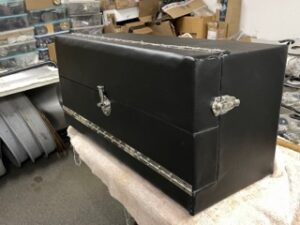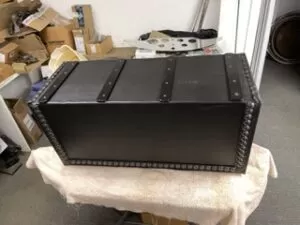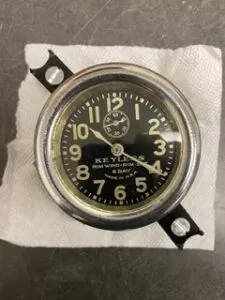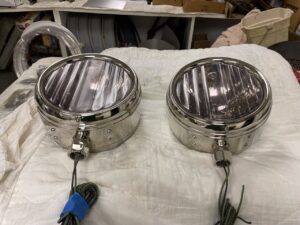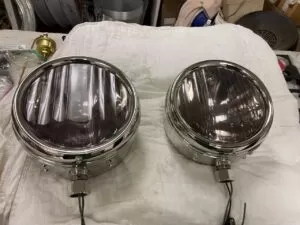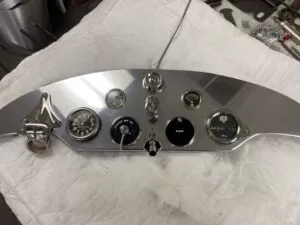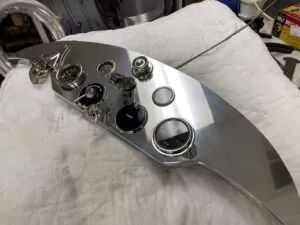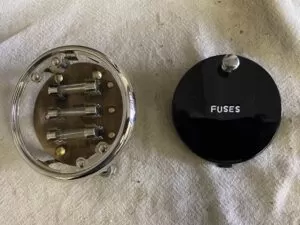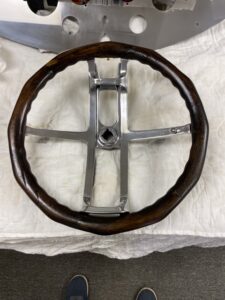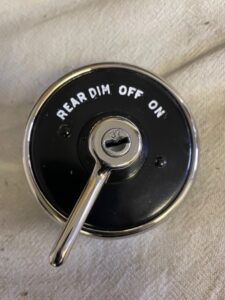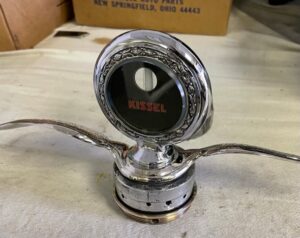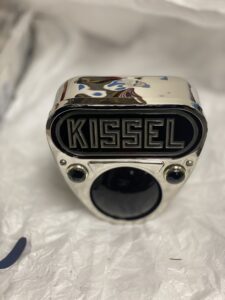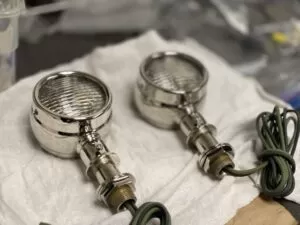 BELOW ARE PICTURES OF THE PROGRESSIVE RESTORATION NOW UNDERWAY