History of the Kissel Gold Bug Speedsters
The Kissel Gold Bug Speedster holds a special place in automotive history as a true icon of the Jazz Age. Produced by the Kissel Motor Car Company from 1920 to 1927, the Gold Bug Speedster was a sports car designed for those seeking a thrilling and stylish driving experience.
The origins of the Gold Bug Speedster can be traced back to a serendipitous encounter between George A. Kissel, one of the founding brothers of Kissel Motor Car Company, and a young reporter named Florence "Daddy" Mahoney. Mahoney was intrigued by Kissel's passion for fast cars and proposed the idea of a lightweight, high-performance vehicle to him. Impressed by her enthusiasm, Kissel accepted the challenge, and thus, the Gold Bug Speedster was born.
Introduced in 1920, the Gold Bug Speedster quickly gained popularity for its unique design and exhilarating performance. The car featured a lightweight body constructed of aluminum, which contributed to its agility and speed. Its streamlined, aerodynamic shape was enhanced by a low-slung profile, cycle fenders, and a distinctive gold-plated Bug emblem, earning it the name "Gold Bug."
Under the hood, the Gold Bug Speedster boasted an impressive powertrain. It was equipped with a modified version of Kissel's reliable six-cylinder engine, providing ample power for spirited driving. With its lightweight construction and powerful engine, the Gold Bug Speedster could reach top speeds of up to 70 miles per hour, a remarkable feat for its time.
The Gold Bug Speedster was not only admired for its performance but also for its luxurious features and advanced technology. It incorporated several innovative elements, such as four-wheel hydraulic brakes, an early adoption in the automotive industry. This braking system offered superior stopping power and improved safety, setting the Gold Bug Speedster apart from its competitors.
Despite its popularity, the Kissel Gold Bug Speedsters was produced in limited numbers. It is estimated that around 150 to 200 Gold Bug Speedsters were built during its production run. Today, locating one of these rare vehicles is a challenging task, as only a small number of original Gold Bug Speedsters are known to exist.
The surviving Gold Bug Speedsters are highly sought after by collectors and vintage car enthusiasts worldwide. These exquisite automobiles are considered prized possessions due to their rarity, historical significance, and timeless design. Restorations of the Kissel Gold Bug Speedsters aim to preserve its original character, showcasing the craftsmanship and attention to detail that went into creating these automotive masterpieces.
The Gold Bug Speedster represents a fascinating era in automotive history, capturing the essence of the Roaring Twenties and the desire for speed, glamour, and adventure. Its unique design and technological innovations make it a standout among classic cars of the time. Owning a Gold Bug Speedster is akin to owning a piece of automotive art—a testament to the pioneering spirit of Kissel Motor Car Company and the craftsmanship of the era.
In conclusion, the Kissel Gold Bug Speedster remains a highly coveted and cherished vehicle among collectors and enthusiasts. Its rich history, limited production numbers, and technological advancements contribute to its allure and desirability. As a testament to automotive excellence and the spirit of the Jazz Age, the Gold Bug Speedster continues to captivate enthusiasts and inspire admiration for its timeless design and exhilarating performance.
The Gathering of the Kissel Gold Bug Speedsters
In September 2010, 10 of the remaining 37 Kissel Gold Bug Speedsters remaining in the world congregated at the Henry Ford Old Car Festival for a once-in-a-lifetime collection. There have never, since the 1920's been so many Kissel Gold Bugs collected in one place. Kissel Gold Bugs from 1920 thru 1928 were represented. Top honors were given to the Kissel participants. See the attached pictures of these historic festivities and cars.
This is the Magazine article about the "Gathering" which AAACA published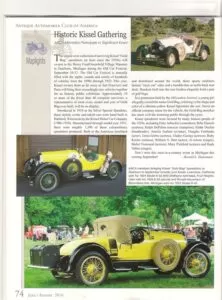 Gold Bugs which were showcased at this historic gathering were
1920 Kissel Model 6-45 Gold Bug – Mark Hyman, St. Louis
1921 Kissel Model 6-45 Gold Bug – Peter Heller, Ohio
1923 Kissel Model 6-45 Gold Bug – Ron & Esther Hausmann, Bloomfield Hills, Michigan
1923 Kissel Model 6-55 Gold Bug – Al Nippert, New York
1924 Kissel Model 6-55 Gold Bug – Lynn Kissel, California
1925 Kissel Model 6-55 Gold Bug – DeWayne Ashmead, Utah
1925 Kissel Model 8-75 Gold Bug – Ted Stahl, Grosse Point, Michigan
1925 Kissel Model 8-75 Gold Bug – John Quam, California
1926 Kissel Model 8-75 Gold Bug – Ken McKinnon, Saginaw, Michigan
1927 Kissel Model 8-65 Gold Bug – Mark Thomas, Birmingham, Michigan
Below in no special order are several dozens of pictures of the ten Kissel Gold Bugs as well as the Owners who participated in this historic "Gathering of Gold Bugs."